Want to have the Best Brightest Flashlights In 2023? Well, you have landed at the right place. Here we're gonna be discussing some of the top-rated and best brightest Flashlights available in the market as of now. But before that let's talk about flashlights and their importance.
What Is Flashlight?
The flashlight is basically a small light that is held in hand and is operated via batteries. They can be used as a light source for both indoor and outdoor application as is pretty portable and can be used to light up any place.
Why Flashlights?
Some of the common reason why people uses flashlights are as follows:
Budget Friendly
Environment Friendly
More Resilient than other types of Bulbs.
Portable.
Long Lasting Battery Life
Simple to use.
Best Brightest Flashlights In 2023
We have researched some of the top brands and manufacturers in the market and have come up with some of the best brightest flashlights which can be the best fit for your space. So without wasting time let's get into it.
IMALENT MS18W Flashlight
IMALENT MS18W Flashlight is said to be the world's brightest flashlight with a lumen output of 100000. This flashlight's head has a light orange peel reflector that pumps out a wide and impressive six-figure high output beam.
Besides this, these lights have got active fans and a liquid cooling system which helps to manage thermals. Also, they are rechargeable and are made up of high-performance aluminum alloy. By this, we can say that these lights are best for camping, hiking, power outage, caving, and so on.
Features
Super Bright.
9 modes are Available.
OLED Display.
Touch and intelligent design.
Friendly Service.
Suitable and Portable.
Check Price
AceBeam X75 Flashlight
You can also consider using AceBeam X75 Flashlight which consists of dozen Cree LEDs. These lights do have a lumens output of 80,000. They can be charged via USB-C and the ad will be full charges in about 1.5 hours.
Moreover, they have got dual switches on the handle which let you cycle between brightness settings or switch light modes. Also, they have got an intelligent cooling system which is pretty good and is IP68 rated.
Features
Rechargeable Li-ion Battery Pack.
US Plug
Type-lll hard-anodized Oxidation.
Replaceable fan unit.
Waterproof.
Check Price
Fenix LR80R Flashlight
Fenix LR80R Flashlight is considered to be a trusted source of quality EDC flashlights. They use six Luminus SST70 LEDs and feature an 18000-lumen maximum output making it the brightest flashlight the company offers.
Moreover, they have got dual buttons on the flashlight which allows you to choose between high and low-powered modes. Also, they have got multiple modes which you can choose from SOS, Eco, Strobe or Turbo mode, and so on. Likewise weighing 3.6 pounds they are one of the big flashlights on the market.
Features
Super Bright Flashlight
USB-C Fast Charging
Double as Power Reservior.
Easy to operate.
Content in Package.
Check Price
Emisar D18 Flashlight
Want a budget-friendly Flashlight? Well, you can go with the Emisar D18 Flashlight which brings a lot of value to your table at the price point. They have a light output of 14000 lumens as it uses 18 SST20 LEDs. They are powered via 18650 li-ion batteries and are made up of aircraft-grade aluminum.
Moreover, it features an IP67 rating which says it is water and dust-resistant. Moreover, they are driven direct by FET, from 5A, and below linear constant regulation.
Features
High-Efficiency Optics.
Unihead construction.
High lumen output and low moon output.
Electronic soft touch switch.
Temperature step down.
Waterproof and dustproof.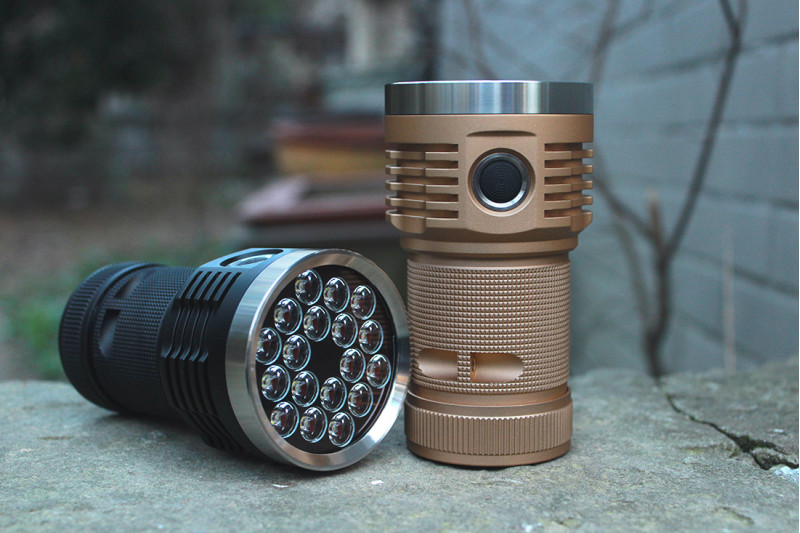 Check Price
ThruNite TN50 Flashlight
ThruNite TN50 Flashlight gives a light output of 16000 lumens which uses TN50 as a powerhouse. They are rated IPX8 for water and impact resistance.
Besides this, they include a single switch which has got seven main modes The light can light up to 400 meters and is rechargeable so it is pretty easy to use it.
Features
Bright Output.
Fast Charging
Long Lasting Battery Life.
Versatile modes and multi use.
Intelligent Power Level Indicator.
Check Price
Nitecore TM20K FLashlight
In search of a compact Flashlight? Well, you can go with Nitecore TM20K Flashlight as they are pretty compact. Also, they are rechargeable flashlights so they can be a good source of light for outdoor applications. Likewise, they have got ergonomic handles which can easily fit in hand, so that one can carry it anywhere they like.
Besides this, they have got 19 Cree XP-L2 LEDs which offer a light output of 20000 lumens. They also include several modes including Turbo, Floodlight, Strobe, and standard modes which best fit your needs.
Features
Super Bright Flashlight.
USB C Rechargeable
Easy to operate.
Compact and lightweight.
Check Price
Olight X9R Marauder Flashlight
Olight X9R Marauder Flashlight is a powerful flashlight that gives a lumen output of 25000 lumens. They include a rechargeable headlamp that has got an MCC3 cable with charging up to 2A.
Besides that, they include a smart sensor that reduces the brightness for protection when the headlight detects an obstruction nearby. These lights are best for outdoor applications such as night hiking, camping supplies, hunting, fishing supplies, and so on.
Features
High Performance
Rechargeable Headlamp
Smart Sensor
Portable Light
Headlamp and Flashlight.
Check Price
IMALENT MR90 Flashlight
IMALENT MR90 Flashlight gives a light output of 50000 lumens. These light beam has a throw of over 1500 meters and comes with seven modes which its user have to choose, it may include Strobe, Max, and Turbo.
Besides these, they are IPX8-rated and have got rechargeable lithium-ion batteries, so one doesn't need to worry about the problem of batteries running out. Likewise, they have got special designs including spot and flood modes.
Features
High Beam Searchlight
Tough and Reliable
Special Design
Special Design
Lock and Unlock Function.
Check Price
Manker MK38 Satellite Flashlight
Want a light for an emergency situation? Well, Manker MK38 Satellite Flashlights can be a great choice as they are handheld flashlights. Moreover, they have got three different LED bulb options that users can choose from.
Also, it does have internal temperature regulations and is made up of aluminum alloy. Likewise, these lights are IPX7 rated
Features:
IPX7 waterproof
Type-Ill hard anodized Oxidation.
Power by 3 * 21700 Batteries.
Check Price
Weltool W4Pro LEP Flashlight
Weltool W4Pro LEP Flashlight has got a maximum light intensity of 2882000 candelas and a luminous flux of 568 lumens. It uses a 21700 rechargeable lithium-ion battery and has got two brightness modes, that is high and low.
Besides this, these lights are made up of aluminum and black hard anodized. And has got a lifespan of about 10000 hours. Also, they include stainless steel pocket clips and Type C charging data cables.
Features
Two brightness modes.
Luminous flu – 568 lumens
Lifespan – 10000 hours.
Stainless steel charging data cable.
Check Price
Conclusion
Believe me or not, Flashlights can be of great use for both indoor and outdoor applications. They are pretty portable and durable too. You can pick up the best light from the list of the Best Brightest lights. However at last it's always your choice to choose the one you love.
Have A Good Day Cheers!!!
You May Also Like: